As native Italians, we take pride in our amazing cuisine and love to replicate dishes that we grew up with here in London. Quality is of utmost importance to us and is a core value for all that we do here at Primo. We believe that carefully sought out, exceptional ingredients will always lead to an excellent product. While there is an abundance of amazing produce in Italy, we're lucky that London has such a strong Italian community that have opened up a plethora of Italian delis and food shops that we visit often to get that authentic taste of home! We're sharing some of our favourites with you today.
Lina Stores, Soho
Lina Stores is an iconic Italian delicatessen in the heart of Soho that has been around since the 1940s. It takes its name from the original founder "Lina," a woman from Genoa who founded the deli in 1944. They import and sell authentic Italian produce and are one of the few original Italian delis that have kept their doors open for over 75 years! The team make their own pasta from scratch alongside sandwiches and cakes on site daily. From cured meats and cheeses to antipasti, the team at Lina store offer the best of Italy. Grab a freshly brewed espresso and peruse all of the products on offer. We recommend trying the Sicilian Cannoli, which are absolutely delicious – friend pastry shells filled with sweetened ricotta, topped with all different delicacies from chocolate and pistachios to dried fruit and nuts. Bellissima!
I Camisa & Son, Soho
Another Soho favourite of ours, I Camisa & Son is a fantastic Italian grocery store filled with more types of pasta than you have ever seen. I Camisa & Son is a true slice of Italy in the heart of London and there really isn't much you can't find here. It's a treasure trove of authentic Italian delicacies. They have an unrivalled selection of imported Italian specialties from meat and cheese to olive, wine and more, I Camisa & Son has everything Italian under one roof. We recommend ordering a Panini to order, they are delicious!
Monte's Delicatessen, Islington
Monte's Deli is one of our favourites because it's filled with regional delicacies that are really hard to find anywhere else in London. They have the best selection of fresh antipasti with everything you could want for the perfect spread from meat and fish to olives and more. They also have a huge spectrum of cheeses imported from both Italy and Europe. We love venturing in and sampling the most delicious cured meats. Monte's carry a huge selection of artisan sausages – we recommend trying out the Mortadella, Parma Ham and Bresola. Bring some home to enjoy with your Primo Negroni during Aperitivo hour!
Giacobazzi's, Hampstead Heath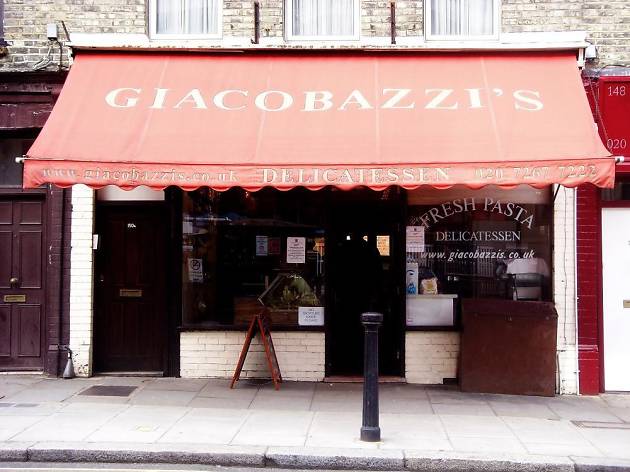 This family fun Italian deli was established in 1991 and is one of our favourites for all of their incredible homemade pastas, salads, sauces and desserts. You can order anything fresh to go and the quality is magnificent. After one bite, we're transported back to Italy. If you're having a big party or a large dinner get together, we recommend ordering from their catering menu which is filled with the most delicious focaccia bread, pizzas, charcuterie and that's just for starters. There are tons of mains you can also choose from like lasagne, Italian style chicken, large arancini and plenty of side dishes – all made from scratch by Italian natives. This place is the real deal for all of your Italian cravings.
Venture out to one of these fantastic Italian delis and bring back all of the essentials for your Italian evening at home. Start off with your Aperitivo classics like charcuterie and cheese to pair with your Primo Negroni, followed by a delicious dinner of fresh pasta and salad and top it all off with a traditional Italian dessert. All of these delis are a little piece of Italy in London and we're so lucky to have them here!
Salute!